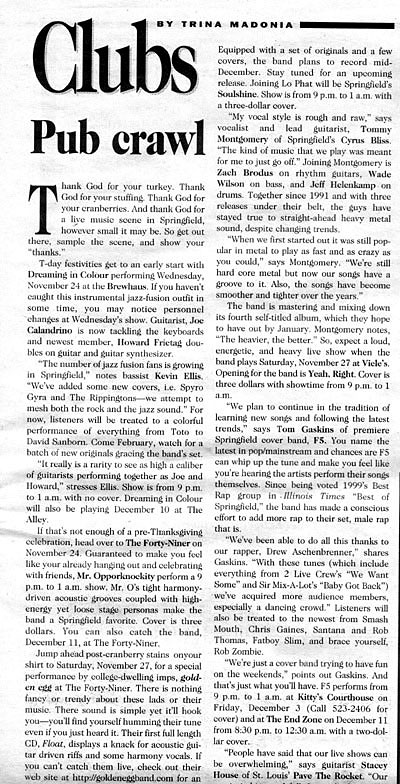 Illinois Times, November 1999

    "We plan to continue in the tradition of learning new songs and following the latest trends," says Tom Gaskins of premiere Springfield cover band, F5.  You name the latest in pop/mainstream and chances are F5 can whip up the tune and make you feel like you're hearing the artists perform their songs themselves.  Since being voted 1999's Best Rap Group in Illinois Times "Best of Springfield", the band has made a conscious effort to add more rap to their set, male rap that is. 

    "We've been able to do all of this thanks to our rapper, Drew Aschenbrenner, "shares Gaskins.  "With these tunes (which include everything from 2 Live Crew's "We Want Some" and Sir-Mix-A-Lot's "Baby Got Back") we've acquired more audience members, especially a dancing crowd."  Listeners will also be treated to the newest from Smash Mouth, Chris Gaines, Santana and Rob Thomas, Fatboy Slim, and brace yourself, Rob Zombie.

    "We're just a cover band trying to have fun on the weekends," points out Gaskins.  And that's just what you'll have.